Can Monk Fruit Combat COVID, Diabetes, and Cancer?
Following in stevia's footsteps, monk fruit has gained widespread attention as a natural sweetener. One significant benefit of this sweetener is that it can manage blood sugar and lipid levels. It also might have antiviral effects against COVID-19 and even anti-cancer properties.
Monk fruit is also known as luo han guo, and its fruit resembles a small melon on the outside. Ancient Chinese people have used it for centuries as a
natural sweetener and traditional medicine
.
According to a review article in Frontiers in Pharmacology, monk fruit contains various nutritious compounds, including mogrosides, vitamin C, trace elements, linolenic acid, and other unsaturated fatty acids.
"Monk fruit does actually contain natural sugars. Those are mainly fructose and glucose. However, unlike most fruit, the natural sugars from monk fruit aren't really responsible for the sweetness. Instead, the intense sweetness comes from a group of compounds called mogrosides," Taylor Wallace, an adjunct associate professor at the Friedman School of Nutrition Science and Policy at Tufts University and CEO at the Think Healthy Group LLC, said in an interview with The Epoch Times.
"The extracted mogrosides from monk fruit, obtained through processing, don't necessarily contain fructose or glucose. So these are very similar compounds to what you would see in other high-intensity sweeteners," Mr. Wallace said.
Mogrosides are 200 to 350 times sweeter than sucrose, and monk fruit sweetener is essentially derived from mogrosides. Mogrosides account for about 1.2 percent of the fresh monk fruit and 3.8 percent of dried fruit powder, according to a review published in Molecules.
"Mogroside, as a natural sweetener derived from plants, is a series of molecules, and the taste of these molecules is different," Nate Yates, vice president of the Global Sugar Reduction Platform at Ingredion Inc., told The Epoch Times.
Mogroside V is the most abundant of the compounds, and ripe monk fruit is exceptionally sweet because of its high content of mogroside V, according to the Molecules review.
"After further refinement and extraction, the taste is more pure and pleasant," Mr. Yates said.
Monk Fruit Sugar's Anti-Diabetic Effects
Like stevia, monk fruit sugar is a zero-calorie sweetener. It is often described as having a taste similar to that of cane sugar, which is a high-calorie sweetener.
In a randomized controlled trial published by the International Journal of Obesity in 2017, 30 healthy men were asked to consume a standardized breakfast, and one hour before lunch, they were provided beverages containing sucrose, aspartame, stevia, or monk fruit sweetener. They were then allowed to choose their lunch from the options provided, and their dinner was recorded. In addition, blood draws and appetite measures were conducted at various points throughout the study.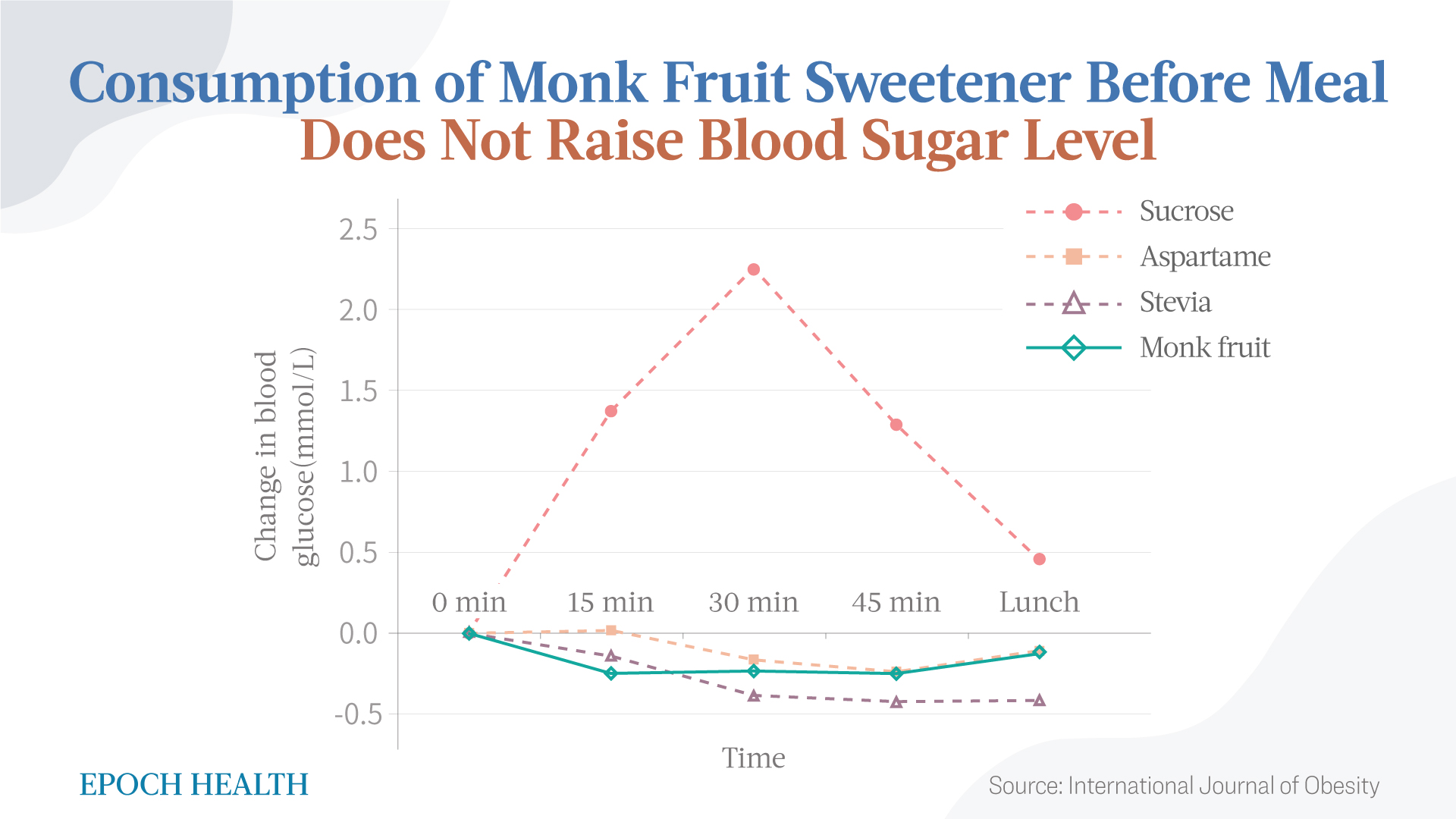 Consuming monk fruit sweetener one hour before a meal does not increase blood sugar levels. (The Epoch Times)
The results showed that those who consumed beverages containing sucrose experienced an increase in blood sugar and insulin levels within an hour before a meal, and those who consumed beverages containing one of the other sweeteners, including monk fruit, did not.
After subsequent monitoring, the researchers concluded that natural sweeteners, including monk fruit sweetener, had the most negligible effect on post-meal blood sugar levels and insulin secretion compared with sucrose.
A recent systematic review and meta-analysis conducted by Canadian researchers showed that in the short term, like water, beverages sweetened with non-caloric artificial or natural sweeteners didn't affect metabolism and endocrine function.
There is currently limited human research on monk fruit sweeteners, unlike on stevia. However, numerous cellular models and animal experiments have indicated that mogrosides provide various beneficial effects for both Type 1 and Type 2 diabetes, according to a review published in the journal Foods.
Mogrosides have been shown to regulate lymphocyte antigens in Type 1 diabetic mice and exhibit therapeutic effects on symptoms. Monk fruit extract can also alleviate and repair damage to pancreatic beta cells and promote insulin secretion, according to the Frontiers in Pharmacology review.
According to the Molecules review, mogrosides have been found to effectively reduce blood sugar and lipid levels in people with Type 2 diabetes. In a study involving mice with diabetes, those given monk fruit extract or mogrosides experienced significant decreases in fasting blood sugar, glycated serum protein, and insulin resistance. The treatment also resulted in a reduction in LDL cholesterol and an increase in HDL cholesterol levels. Additionally, mogrosides can alleviate symptoms of diabetic nephropathy, according to the Frontiers in Pharmacology review.
Monk fruit beverages, made from monk fruit powder and water, have already been granted patent registrations in China. The review published in Frontiers in Pharmacology suggested that such drinks are suitable for treating diabetes.
Moreover, according to the Foods review, the flavonoid compounds found in monk fruit can significantly lower blood sugar levels and protect the pancreas, while the polysaccharides can ameliorate lipid disorders and reduce plasma glucose levels.
Potential Benefits of Monk Fruit Against COVID-19
The monk fruit has long been used in traditional Chinese medicine (TCM) to treat cough, sore throat, bronchitis, and asthma. According to the Frontiers in Pharmacology review, records of its effectiveness in relieving phlegm, alleviating pain, clearing heat, and moisturizing the lungs—to use some terms from TCM—can be traced back 2,000 years.
"In particular, during the summer, it is recommended to consume monk fruit when experiencing symptoms such as sore throat, throat discomfort, or cough," Jonathan Liu, a professor of Chinese medicine at Georgian College and the director of Liu's Wisdom Healing Centre in Canada, told The Epoch Times.
A study published in Frontiers in Endocrinology in 2022 demonstrated that mogroside V can effectively target multiple sites of COVID-19, potentially helping treat those infected with the virus.
Mogrosides can also inhibit the release of inflammatory factors, effectively suppressing and reducing pulmonary fibrosis.
According to the Molecules review, numerous animal studies have demonstrated that monk fruit extract can significantly inhibit cough and enhance sputum excretion. It also possesses anti-inflammatory properties and can help manage asthma. Additionally, mogrosides show a protective effect against acute lung injury.
Anti-Cancer, Anti-Inflammatory, and Antioxidant Properties
Mogrosides Exhibit Anti-Cancer Properties
Mogrosides exhibit comprehensive anti-cancer activities, as evidenced by various experiments. According to the review in Foods, they can inhibit the invasion and migration of lung cancer cells, induce cell apoptosis, and impede the proliferation of colorectal and laryngeal cancer cells. Moreover, mogrosides can disturb the growth cycle of pancreatic cancer cells and cause cell death. According to the Frontiers in Pharmacology review, monk fruit extract has also been found to have inhibitory effects on liver cancer.
Additionally, mogrosides can help inhibit the toxicity of carcinogens, according to a paper published in Cancer Letters. For instance, they can help prevent skin cancer induced by exposure to certain chemicals, according to commentary published in Future Medicinal Chemistry.
Animal studies mentioned in the Cancer Letters paper have shown that phytochemicals in monk fruit can even directly kill tumor cells.
Monk Fruit Benefits the Brain and Nervous System
Mogrosides can alleviate neuroinflammation in brain cells and help manage Alzheimer's disease, according to the Molecules review. They can also reduce memory impairments and prevent hippocampus apoptosis. In addition, animal studies mentioned in the Foods review have shown that mogrosides can effectively improve schizophrenic behaviors in mice and modulate partial permanent impairment of the nervous system.
Monk Fruit Acts as an Antioxidant
The Molecules review states that mogrosides are antioxidant agents, enabling them to scavenge reactive oxygen species and protect cells. They can also inhibit DNA oxidative damage, thereby slowing the aging process. Additionally, mogrosides demonstrate significant protective effects against exercise-induced tissue damage, including cardiac injury. The Foods review indicated they could also improve nonalcoholic fatty liver disease by preventing liver fat accumulation and inhibiting lipid peroxidation.
In addition, the flavonoids and polysaccharides found in monk fruit also show vigorous antioxidant activity.
Who Should Avoid Consuming Monk Fruit Sugar?
"Monk fruit sweetener seems to be fairly safe, though it undergoes an artificial extraction process," Mr. Wallace said.
According to the information published by the U.S. Food and Drug Administration, monk fruit extract is classified as "generally recognized as safe." However, no specific acceptable daily intake has been established for monk fruit extract, which is typical because evidence of the ingredient's safety is established for amounts well above that needed to achieve the desired effect in food.
According to TCM, monk fruit is considered to have a slightly cold nature and is associated with minimal side effects. However, Mr. Liu advised that people with cold constitutions, such as those who frequently experience loose stools, have a large, pale tongue, or exhibit prominent tooth marks on the edges of the tongue, may want to avoid monk fruit consumption.
In addition, monk fruit belongs to the Cucurbitaceae family, which includes common plants such as cucumber, zucchini, pumpkin, and melon. Therefore, people allergic to these foods are more likely to be allergic to monk fruit.
Selecting Monk Fruit Sweeteners: Considerations and Challenges
Monk fruit offers numerous health benefits, but its cultivation can be challenging. It has low germination rates and requires specific environmental conditions for successful growth.
Fresh monk fruit is also tough to store and rarely seen in the market. However, dried monk fruit can be found in some Asian grocery stores, Chinese herbal medicine stores, and online.
The traditional drying method for monk fruit involves high-temperature hot air drying. However, in recent years, there has been a rise in the use of low-temperature freeze-drying for dried monk fruit, which helps retain a higher concentration of beneficial compounds, especially mogrosides.
Because of its high sweetness, solid powdered monk fruit sweeteners commonly found in supermarkets are often mixed with other substances such as erythritol, and some products may even contain sucrose. Monk fruit may only account for about 1 percent of the composition of these products.
Homemade Monk Fruit Syrup and Monk Fruit Tea
You can also try making homemade monk fruit syrup using dried monk fruit.
Remove the peel of the monk fruit and extract the flesh and seeds. Soak the monk fruit flesh and seeds in 194 F (90 C) water for 30 minutes at a ratio of 1 gram of dried fruit to 15 milliliters of water, as described in the Foods review. Then, strain the liquid and store it for later use.
Afterward, you can pour in fresh hot water and continue soaking the flesh and seeds, but remember to extend the soaking time appropriately with each subsequent infusion.
By boiling the infused monk fruit water, you can reduce it to obtain monk fruit syrup.
Another simple way to incorporate monk fruit is by adding dried monk fruit to your tea during brewing. This makes the tea sweeter and provides the benefits of monk fruit's compounds.
Reposted from: https://www.theepochtimes.com/health/a-natural-sweetener-that-could-combat-covid-diabetes-and-cancer-5279772