Paxlovid vs Molnupiravir: Which is Better?
Nearly 3 years after it began, the COVID-19 pandemic continues to rage on. But during this time, many scientific and medical breakthroughs have been made to help combat this illness.

The U.S. Food and Drug Administration on May 25, 2023 granted full approval to Pfizer's oral antiviral COVID-19 treatment Paxlovid, clearing the way for the drugmaker to sell it at market rates once U.S. government supplies dwindle.
Paxlovid initially received emergency use authorization from the FDA in late 2021, when there was a desperate need for effective COVID treatments. The agency on May 25, 2023 approved the two-drug therapy to treat adults at high risk of progression to severe disease.
Paxlovid (nirmatrelvir and ritonavir) and Merck's Lagevrio (molnupiravir) were granted emergency use authorization (EUA) by the US FDA in late December 2021.
These are the first two oral medications that can help prevent mild or moderate COVID-19 from worsening. But with all the buzz on these COVID-19 pills, it can be easy to confuse them. It can also be hard to find them due to high demand, so GoodRx Health has created a
tool to help you find them
.
Here, we'll discuss the differences between Paxlovid and Molnupiravir when used to treat COVID-19.
What is Paxlovid?
Paxlovid is a combination of two antiviral pills: nirmatrelvir and ritonavir. Paxlovid is authorized

for adults and children ages 12 and older that weigh at least 88 pounds (40 kg). Paxlovid is currently only recommended for

people at high risk

of developing severe COVID-19. High-risk people include older adults and those with

certain medical conditions

.
How does Paxlovid work for COVID-19?
The two medications in Paxlovid work together to help treat COVID-19. Both nirmatrelvir and ritonavir belong to the same class of medications: protease inhibitors.
Nirmatrelvir stops the virus that causes COVID-19 from copying itself. The virus relies on an enzyme (protein) in our bodies called protease to copy itself. Nirmatrelvir temporarily stops this enzyme from working so the virus can't use it to multiply.
Ritonavir helps slow the breakdown of nirmatrelvir. This helps nirmatrelvir stay in the body at higher levels for longer. In other words, ritonavir helps make nirmatrelvir more effective against COVID-19 than it would be on its own.
What is molnupiravir?
Molnupiravir is also an oral antiviral pill authorized to treat mild to moderate COVID-19. This medication, manufactured by Merck, received EUA shortly after Paxlovid. Molnupiravir is authorized for adults ages 18 and older that are at high risk of severe COVID-19. However, the FDA has stated it should only be used if no other recommended COVID-19 treatments are available.
How does molnupiravir work for COVID-19?
Molnupiravir is a nucleoside analog. It also stops the COVID-19 virus from copying itself. But it does this in a different way than Paxlovid.
Molnupiravir looks like genetic building blocks that the COVID-19 virus uses to copy itself. So when you take the medication, the virus mistakenly inserts molnupiravir into its genetic material. When this happens, the virus can't copy itself.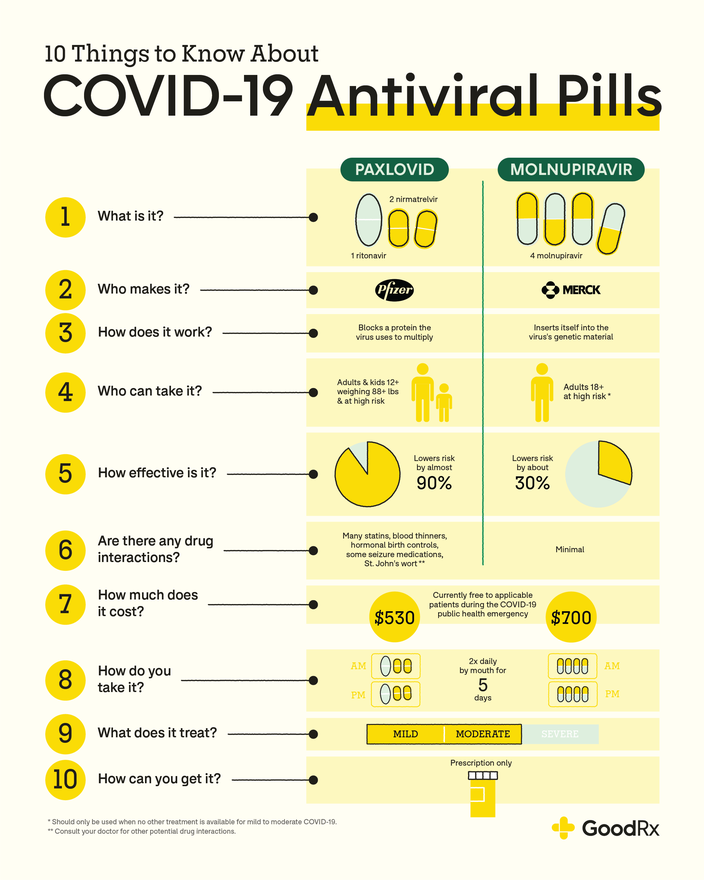 How are Paxlovid and molnupiravir dosed and given?
Paxlovid and molnupiravir have several similarities when it comes to taking each medication. The biggest dose difference lies in how many pills you take at one time.
Paxlovid comes as a prepackaged carton containing 30 tablets. For each dose, you'll take two nirmatrelvir tablets and one ritonavir tablet. These three pills should be taken by mouth twice daily for 5 days. Swallow the pills whole. Don't split, chew, or crush them.
A molnupiravir prescription comes with 40 capsules. Take four capsules by mouth twice daily (every 12 hours) for 5 days. The capsules should be swallowed whole. Don't open or crush the capsules.
Paxlovid and molnupiravir should be started within 5 days of when a person first starts experiencing COVID-19 symptoms. Both COVID-19 pills can be taken with or without food. It's also important to finish all the medication prescribed to you to help them be as effective as possible.
How effective are Paxlovid and molnupiravir for treating COVID-19?
The effectiveness is probably the most notable difference between Paxlovid and molnupiravir.
In clinical trials, Paxlovid was nearly 90% effective at preventing hospital stays or death due to COVID-19 in high-risk people. Ongoing clinical trials suggest Paxlovid is about 70% effective in people with a standard risk of severe illness.
On the other hand, molnupiravir lowered the risk of COVID-19 hospital stays or death by about 30% in high-risk people. This difference in effectiveness may be one of the reasons the FDA suggests using molnupiravir only if other treatments aren't available.
It's important to note that these levels of effectiveness were recorded when study participants started Paxlovid or molnupiravir within 5 days of first feeling symptoms. The medications' effectiveness is lower if the medications are started after this timeframe.
Paxlovid for long COVID
A
report
from the Veterans Affairs health system (now in preprint), the largest in the United States, is the first study to look at longer term effects. Dr. Ziyad Al -Aly and colleagues, who have published many of the important papers on Long Covid in leading peer review journals, now studied over 9,000 paxlovid treated patients (within 5 days of symptom onset; in March-June 2022 during Omicron and subvariant waves) and compared the results to ~47,000 controls. Their mean age was 65 years and 12% were female.
In summary, the results show that in people with SARS-CoV-2 infection who had at least 1 risk factor for progression to severe COVID-19 illness, treatment with Paxlovid (nirmatrelvir) within 5 days of a positive SARS-CoV-2 test was associated with reduced risk of PASC (Post Acute Sequelae of COVID-19) regardless of vaccination status and history of prior infection. The totality of findings suggests that treatment with Paxlovid during the acute phase of COVID-19 reduces the risk of post-acute adverse health outcomes.
The U.S. National Institutes of Health's $1 billion RECOVER Initiative has picked Pfizer Inc's
(PFE.N)
antiviral drug Paxlovid as the first treatment it will study in patients with long COVID, organizers of the study said on Oct 27, 2022.
The complex medical condition involves more than 200 symptoms ranging from exhaustion and cognitive impairment to pain, fever and heart palpitations that can last for months and even years following a COVID-19 infection.
According to details of the study, posted on
Clinicaltrials.gov
, the randomized, placebo-controlled trial will test Pfizer's treatment or a placebo in 1,700 volunteers aged 18 and older.
The Duke Clinical Research Institute is supervising the study, which is scheduled to start on Jan. 1, 2023. The trial will investigate a leading theory of the cause of long COVID, which holds that fragments of the virus persist in the tissues of some individuals, causing prolonged symptoms.
Patients in several case studies have reported improvements in their symptoms after taking Pfizer's antiviral treatment, and several
physicians have called for the drug to be studied
in a large, scientifically rigorous study in patients with long COVID.
Paxlovid, which combines a new Pfizer pill with the old antiviral ritonavir, is currently authorized for use in the first days of a COVID infection to prevent severe disease in high-risk patients.
Estimates of long COVID prevalence range from 5 to 50% of people who have had a COVID-19 infection. It affects people who have had both mild and severe COVID-19, including children, and can be severe enough to keep people out of work.
Paxlovid Rebound
In late May 2022, the CDC
issued a health advisory
about "COVID-19 rebound" after Paxlovid treatment. The CDC described it as "a recurrence of COVID-19 symptoms or a new positive viral test after having tested negative."
At the same time, the CDC wrote, "a brief return of symptoms may be part of the natural history of [coronavirus] infection in some persons, independent of treatment with Paxlovid and regardless of vaccination status."
The CDC said there is
no evidence for more treatment
in rebound cases, though people should isolate again for at least 5 days so they won't pass COVID-19 to others.
People who have a rebound after taking Paxlovid can report their cases to Pfizer's
adverse event reporting page
.
In a retrospective cohort study of electronic health records (EHRs) of 92 million patients from a multicenter and nationwide database in the US, published as a
preprint in June 2022
:
"The 7-day and 30-day COVID-19 rebound rates after Paxlovid treatment were 3.53% and 5.40% for COVID-19 infection, 2.31% and 5.87% for COVID-19 symptoms, and 0.44% and 0.77% for hospitalizations."
However,
according to a study
(Oct 2022)
, this puzzling phenomenon can occur whether you take Paxlovid or not.
Researchers found that when patients received a placebo instead of treatment, a portion of them still experienced a rebound of their symptoms after they had initially improved.
"Symptom return is common," said Dr. Davey Smith, the chief of infectious diseases and global public health at the University of California, San Diego School of Medicine, who led the study. "It doesn't mean that things are going south. It's just the natural way the disease goes." What is surprising, however, is how many people may experience a rebound, he said. (
Read More
)
Dr. Paul Auwaerter, head of Infectious Diseases at Johns Hopkins
said
:
"I think when you're using drugs such as Paxlovid for only 5 days with one specific protease inhibitor, the nirmatrelvir component of the drug, it may be that that is not sufficient."
Rather than relying on Paxlovid as a single agent drug, it makes sense to use a
multi-agent
approach. The synergistic potential of multiple therapeutics against Covid means that the
effect
of 1 + 1 can equal more than 2. Taking advantage of synergism is well-known in the use of both
antibiotics
and
antivirals
, and a mix of therapies has been published to have excellent efficacy against Covid.
What are the known side effects of Paxlovid and molnupiravir?
Side effects for both Paxlovid and molnupiravir were mild for most people in clinical trials.
Common Paxlovid side effects include:
Changes in taste

Diarrhea

High blood pressure

Muscle aches
Molnupiravir side effects reported most often include diarrhea, nausea, and dizziness.
What are the serious side effects of Paxlovid and molnupiravir?
As with any medication, Paxlovid and molnupiravir have risks of more serious side effects. Each medication's risks are unique. These could be a reason why a healthcare provider may pick one COVID-19 pill over the other.
Paxlovid
Paxlovid can be hard on both the liver and kidneys. It's possible this medication could damage these organs, especially if you already have issues with them. Paxlovid isn't recommended if you have liver problems. If you have kidney problems, you may need a different dose of Paxlovid. Depending on your personal risks, your healthcare provider may also choose to avoid prescribing it.
Protease inhibitors are often used to treat HIV. As mentioned above, Paxlovid contains two protease inhibitors. This medication may cause HIV to become resistant to other HIV medications if you aren't being fully treated for the condition. If you have HIV, discuss whether Paxlovid is the best choice for you with your healthcare provider.
Molnupiravir
Molnupiravir shouldn't be taken if you're pregnant. Animal studies suggest that molnupiravir may harm unborn babies or cause a miscarriage. If you are sexually active and able to get pregnant, you should use reliable birth control while taking molnupiravir and for 4 days after your last dose.
There's also concern that molnupiravir may affect sperm. Experts are unsure if this could affect a future pregnancy. As an extra precaution, it's recommended for males who are sexually active with a person who can get pregnant to use condoms while taking molnupiravir. They should also continue using condoms for at least 3 months after their last dose.
Molnupiravir also shouldn't be taken by people under 18 years old. This is because the medication may affect bone and cartilage development in younger people. Discuss the best COVID-19 treatment option for your child or teen with their healthcare provider.
What interactions do Paxlovid and molnupiravir have?
Paxlovid interacts with many medications. Some interactions make Paxlovid less effective, and others make it too plentiful in your body.
The following list includes some of the most notable interactions. But there are many other medications that may be unsafe to combine with Paxlovid. Discuss all medications and over-the-counter (OTC) products you take with your healthcare provider and pharmacist.
According to FDA's Fact Sheet for Healthcare Providers (Section 5.1):
5.1. Risk of Serious Adverse Reactions Due to Drug Interactions
Initiation of PAXLOVID, a CYP3A inhibitor, in patients receiving medications metabolized by CYP3A or initiation of medications metabolized by CYP3A in patients already receiving PAXLOVID, may increase plasma concentrations of medications metabolized by CYP3A. Initiation of medications that inhibit or induce CYP3A may increase or decrease concentrations of PAXLOVID, respectively.
These interactions may lead to:
Clinically significant adverse reactions, potentially leading to severe, life-threatening, or fatal events from greater exposures of concomitant medications.
Clinically significant adverse reactions from greater exposures of PAXLOVID.
Loss of therapeutic effect of PAXLOVID and possible development of viral resistance.
See Table 1 for clinically significant drug interactions, including contraindicated drugs. Drugs listed in Table 1 are a guide and not considered a comprehensive list of all possible drugs that may interact with PAXLOVID. Consider the potential for drug interactions prior to and during PAXLOVID therapy; review concomitant medications during PAXLOVID therapy and monitor for the adverse reactions associated with the concomitant medications [see Contraindications (4) and Drug Interactions (7)].
Some of Paxlovid's interactions include:
There are many Paxlovid drug-interaction checkers, but the one we find most useful is from the
University of Liverpool
summarized in the Table below. For most, the interactions can be avoided by holding the 'medication of concern' until the 5-day treatment course is completed.
Currently, molnupiravir isn't known to interact with any medications. This is still being studied and may change as more information becomes available. Always discuss all your medications with your healthcare provider before starting a new medication.


How much do Paxlovid and molnupiravir cost?
Definite cost information for Paxlovid and molnupiravir still isn't available. The original prices reported were around $530 for a course of Paxlovid and about $700 for a round of molnupiravir.
More recently, news reports have stated that Paxlovid will be provided to all U.S. states at no cost. Merck has previously stated the cost of molnupiravir will also be lower than the original price given. But an exact cost hasn't been confirmed for either.
We'll know more about their costs as these COVID-19 pills become available. Quantities of Paxlovid and molnupiravir are limited at this time. More courses of the two antiviral treatments will be shipped to the U.S. during 2022.
Can you take Paxlovid and molnupiravir together for COVID-19?
No. This combination hasn't been studied for any use, including COVID-19. An interaction between Paxlovid and molnupiravir isn't listed by either
Pfizer
or
Merck
. But due to the lack of research about whether this is safe or effective, this combination isn't suggested.
Efficacy of Paxlovid and Molnupiravir against Omicron Subvariants BQ.1.1 and XBB | NEJM (Dec 2022)
BQ.1.1 is a new Omicron subvariant descended from Omicron BA.5. BQ.1.1, along with its sister variant BQ.1, accounts for around 62.8% of new COVID-19 cases in the U.S. (
CDC
).
A lab study published in December 2022 (
NEJM
) using the live-virus neutralization assay revealed that most of the monoclonal antibodies may not be effective against BQ.1.1 or XBB in the clinical setting.
Overall, the study data also revealed that the three antiviral drugs remdesivir, molnupiravir, and nirmatrelvir (Paxlovid) may still have therapeutic value against the omicron subvariants BQ.1.1 and XBB.
According to the authors:
"...These results suggest that imdevimab–casirivimab, tixagevimab–cilgavimab, sotrovimab, and bebtelovimab may not be effective against BQ.1.1 or XBB in the clinical setting...These results suggest that remdesivir, molnupiravir, and nirmatrelvir are efficacious against both BQ.1.1 and XBB in vitro..."
The NIH COVID-19 Treatment Guidelines Panel's Statement on Therapies for High-Risk, Non-hospitalized Patients With Mild to Moderate COVID-19 (Last Updated: April 20, 2023)
This statement contains the NIH Panel's recommendations for treating these non-hospitalized patients using the currently available therapies.
For Patients Who Are at High Risk of Progressing to Severe COVID-19 (R)
Preferred therapies. Listed in order of preference:
Ritonavir-boosted nirmatrelvir (Paxlovid)
Remdesivir
Alternative therapies. For use ONLY when neither of the preferred therapies are available, feasible to use, or clinically appropriate. Listed in alphabetical order:
Note: Bebtelovimab was recommended in the previous version but now has been removed.
Alternative therapies for outpatients with COVID-19
For alternative therapies for outpatients with COVID-19, see I-Care protocol.
The bottom line
Paxlovid and molnupiravir are the first two oral medications available for treating mild or moderate COVID-19. Both medications are authorized for high-risk people. They should be started within 5 days of first feeling symptoms.
There are several similarities between Paxlovid and molnupiravir. But the biggest difference lies in how effective they've been for COVID-19 in studies. If you've recently tested positive for COVID-19,
talk to your healthcare provider
to see if either COVID-19 pill is an option for you.
Sources and References
Paxlovid vs. Molnupiravir (Lagevrio) for COVID-19:
goodrx.com