Top 12 Milk Options for Children 2 and Up: A 2022 Review
Milk is considered a helpful product for growing children because it is a full supply of energy and the richest and most affordable source of high nutritional quality protein, calcium, phosphorus, and vitamin A.
A study supports the hypothesis that dairy consumers had higher intakes of micronutrients and higher nutrient adequacy than children who consumed no milk or dairy products.
Toddler
12 to 23 months
: 1⅔ to 2 cups per day
Children ages
2 to 3 years
: 2 to 2½ cups (or dairy equivalents) per day
Children ages 4 to 8 years: 2½ cups (or dairy equivalents) per day
What Type of Milk Should I Give My 2 Year Old?
Full cream milk should be given to toddlers under two years old. Once they turn two, children can consume full-fat or reduced-fat milk with the rest of the family. Toddlers have extremely high energy needs and shouldn't drink low-fat or skimmed milk.
Furthermore, whole milk is simpler to digest than low-fat or skim milk because it has more fat, which helps the body's better digestion and absorption of the milk's nutrients. Low fat or skim milk has the fat removed, which can make it harder to digest.
UHT Milk vs Powdered Milk
UHT milk is ultra-pasteurized milk that has been heated for a short period of time to kill any bacteria that may be present, yet still retaining its nutritional content. Because of this, it may be stored for a long time without needing to be refrigerated and is shelf-stable. However, once opened, UHT milk should be refrigerated and used within a few days.
Dried milk that has been processed into a powder is known as powdered milk. It is usually made from cow's milk and can be used as a substitute for fresh milk. Compared to other milk kinds, powdered milk is often less expensive and has a longer shelf life.
Because UHT milk is pasteurized, which helps to preserve the vitamins, minerals, and proteins in the milk, it is more nutritious than powdered milk. Additionally, UHT milk does not require water to be reconstituted, preserving all of the milk's nutritious benefits. Powdered milk, on the other hand, has a lower nutritional value because many of the beneficial compounds in the milk are lost during the drying process.
UHT Milk vs Fresh Milk
As for fresh and UHT milk, medical experts say the difference between the two is minimal. Both types of milk are pasteurised – heat-treated to destroy pathogens and bacteria.
The difference is in the way and temperature at which this process is done.
Dr Han Wee Meng, head of nutrition and dietetics at
KK Women's and Children's Hospital
, says: "Both fresh and UHT milk are equally recommended for children. The choice depends on individual taste preferences and practical considerations."
She adds that pasteurisation does not significantly alter the nutritional composition of the milk, in terms of energy, protein, calcium and phosphorous content.
While some vitamins may be lost, additional nutrients may sometimes be added back into the milk after pasteurisation. (
Source
)
Best Milk for 2 Years Old and Above
A. UHT Milk
1. Parmalat Whole Milk 1 Qt
BUY ON AMAZON

Our Promise
100% Real Milk
Enjoy the fresh taste of high quality grade A cow milk, with no preservatives.
A Nutritious Glass of Milk
Our milk is packed full of good things such as vitamins A and D, protein, and calcium.
Stays Fresh Longer!
Here at Parmalat, we heat our milk at higher temperatures than regular pasteurized milk.
This way, our milk stays fresh longer, and doesn't need to be refrigerated until opened.
Ratings
4.5 out of 5 - more than 400 global ratings
Parmalat Whole Milk Reviews
If you're anyone who likes a backup, this is your milk. Get a 6 pack and keep it in your pantry. It tastes great and it lasts. If you're going out camping, this is perfect. If you have a kiddo, this is perfect. If you just want great tasting milk, this is perfect. If you have no electricity, this is definitely your milk.
2. Alexandre Family Farms Organic Regenerative UHT A2 Whole Milk
Our Eco Dairy Whole Milk contains 4% mikfat – which is 24% more than the nationally standardized 3.25% milkfat in other Whole milk on the market. Our cool, coastal climate provides green grass 365 days a year – a constant source of nourishment for our unique blend of crossbreed cows, and results in milk with higher Omega 3s and CLAs (conjugated linoleic acids).
All our Alexandre Eco Dairy milks are ultra-pasteurized to give them an extended shelf life for staying fresh longer in your fridge!
My 2 year old baby always have constipation since she was born. After I switched her milk to Alexandre A2 milk, she does not have it anymore. Taste is also very good.
3. LALA Whole Milk UHT 32oz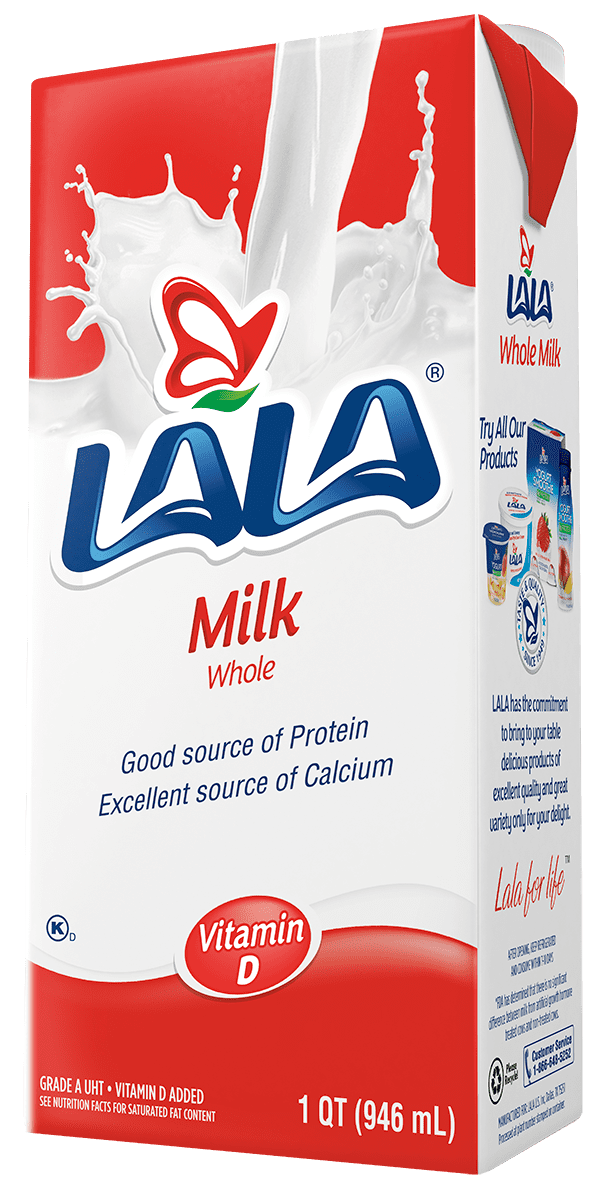 BUY ON WALMART
LALA UHT Whole Milk it's the real thing, easy to storage in your home, perfect when traveling or hiking. The Ultra-pasteurized whole milk is smooth, creamy and ready-to-go. One quart has all the protein, calcium, potassium and Vitamin D you expect from whole milk.
LALA UHT MILK is ultra-pasteurized. The milk is heated to a higher temperature than normal pasteurization. This milk does not have to be kept refrigerated until opened and it has a much longer shelf life than non-UHT milk.
LALA Whole Milk Reviews
I like having this in my cupboard in case I run out of milk or can't get to the store. It tastes exactly like milk-doesn't spoil so good for travel too.
4. Parmalat Shelf Stable 2% Reduced Fat Milk 1 Qt
Parmalat milk doesn't need to be refrigerated until it's opened, so you can keep one in the pantry. We heat our milk at an Ultra High Temperature (UHT) to keep it fresh longer. Tastes just like real milk, because it is real milk!
- vitamins A & D
- 38% less fat than whole milk
- 8g of protein per serving!
- fat reduced from 8g to 5g per serving
We have a very difficult time finding these in the grocery story. We buy them for our RV and household use.

It may seem expensive compared to fresh store milk, but half the time, fresh milk spoils and we have to through it out! We keep these in stock all the time.
5. Alexandre Family Farms Organic Regenerative UHT A2 2% Reduced Fat Milk
Our Eco Dairy Reduced Fat Milk has 2% milkfat – 50% less than our Whole Milk. Our cool, coastal climate provides green grass 365 days a year – a constant source of nourishment for our unique blend of crossbreed cows, and results in milk with higher Omega 3s and CLAs (conjugated linoleic acids).
All our Alexandre Eco Dairy milks are ultra-pasteurized to give them an extended shelf life for staying fresh longer in your fridge!
Absolutely delicious, easy to digest (ie- dairy issues), and wonderful company with great values!
B. Powdered Milk
6. PediaSure Vanilla Delight 1Kg/35.2Oz - for Kids 2 Years to 10 Years
- complete and balanced nutrition everyday
- vanilla delight
- with 37 vital nutrients
- growth nutrients help increase height and weigth
- immuno-nutrients supports immunity: neuro-nutrients supports brain development
Ratings
4.6 out of 5 - more than 800 global ratings
One of great product for children growth, thanks a lot for shipping to USA
7. Nestle NIDO Kinder 1+ Toddler Milk Beverage
BUY ON AMAZON
Two 56.4 oz canisters of Nestle NIDO Kinder 1+ Toddler Milk Beverage. EBT item in eligible states
- delivers 13 essential vitamins and minerals in every cup
- easy to mix for a nutritious beverage for your child
- includes a probiotic along with Vitamins A, C, D, Iron, Zinc to help support immunity
- contains 19 mg Omega-3 DHA and iron to help support healthy brain development
Ratings
4.7 out of 5 - more than 1,400 global ratings
NIDO toddler formula is an excellent choice for the little ones. It is pretty much just a fortified milk product that has quite an impressive nutrition label. It blends well and has a decent shelf life. My grandson really likes it so the taste must be good as well.

We always had it on hand during the pandemic - just in case we couldn't get out to get milk for our grandson.
8. Enfagrow Gentlease Toddler Formula
BUY ON WALMART
Enfagrow Toddler Transitions Gentlease Fomula contains proteins that are partially broken-down that are easy to digest to ease fussiness, gas and crying. It contains 26 milligrams of brain nourishing omega 3 DHA to assure brain support and rapid development. Moreover, Enfagrow NeuroPro contains expert recommended omega 3 DHA and iron–two building blocks of a toddler's brain.
– Brain Building DHA
– Eases Fussiness, Gas, & Crying
– Immune Health
Ratings
4.7 out of 5 – more than 130 global ratings
Enfagrow Gentlease Toddler Formula Review
My son is almost 2 and has problems with most foods. One day he likes food and wants to eat allot and then he won't want to eat a full meal for 3 days. This powder is great for them to get their nutrients in without it making them full or gassy.
9. Holle A2 Cow Milk Toddler Drink
A2 milk is an alternative to regular cow's milk. A gentle option for your toddler's digestive system. A2 protein is similar to that found in breast milk.
- sourced from cows fed on natural plant-based diets.
- non-GMO, made only from cows that produce the a2 beta-casein protein.
- fortified with DHA & iron - no corn syrup added.
Yes, this is good for on the go but health care will all tell you fran whole milk has much more nutrient needed for toddler! My son loves his fresh whole cow milk so i thought this would be an issue… but he drinks this one as well!
C. Best Fresh Milk
10. 365 by Whole Foods Market, Milk Whole Organic
BUY ON AMAZON
There's no better way to "go organic" than with our milk. We work with a co-op of smaller dairy farms that always pay careful attention to the well-being of the cows and feed them a 100% organic diet - that's good news for the cows. Supporting organic products, like milk, helps encourage organic agriculture.
Organic farming prohibits the use of persistent pesticides and genetically engineered seed to help protect the land and water supply - that's good news for the earth. Our milk is never ultra-pasteurized. Though it shortens the life of each carton, we believe using traditional, lower heat pasteurization gives our milk its delicious, wholesome flavor - that's good news for you.
Ratings
4.7 out of 5 - more than 15,900 global ratings
11. 365 by Whole Foods Market, Milk 2% Organic
- organic
- reduced fat milk | 2% milk fat
Ratings
4.7 out of 5 - more than 7,700 global ratings
Fresh, Kids like it

12. Crystal Whole Vitamin D Milk - Whole Milk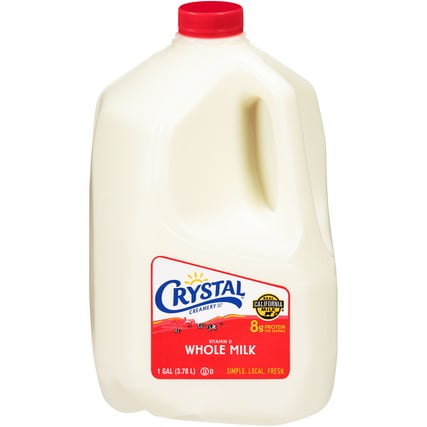 Crystal Creamery Vitamin D Whole Milk Gallon Jug. Milk: Pure and Simple. Not all milk is the same. At Crystal Creamery, our milk is delivered fresh each day from our local and family farms. Packed with protein and a fresh creamy taste, our reduced fat milk is an excellent source of calcium, and we never treat our cows with the growth hormone rBST.
FAQ
a. UHT Milk Benefits
Extended Shelf life. Milk that has been ultra pasteurized (UHT) is known to last far longer than regular milk. UHT milk that comes in airtight packaging has a shelf life of 6 to 9 months.
Safer Than Untreated Milk. The higher temperatures that are used in this process destroys the heat-resistant bacteria in your milk, which makes UHT milk safer for your kids to consume.
High Nutritional Value. Highly beneficial for your health, UHT milk is loaded with essential nutrients like protein, carbohydrates, calcium, zinc, potassium, phosphorous, magnesium, riboflavin, vitamins A and B12. (Source)
b. A1 vs A2 Milk
A1 and A2 milk refer to the types of protein found in cow's milk. A1 milk contains the A1 beta-casein protein, while A2 milk contains the A2 beta-casein protein. The main difference between A1 and A2 milk is that A1 milk may result in gastrointestinal problems while A2 milk might not.




In terms of nutrition, A2 milk is no different from A1 milk. Both milks contain the same essential nutrients, such as calcium, protein, and fats, and provide similar health benefits.




A2 Milk May Increase the Production of the Antioxidant Glutathione

Glutathione is a potent antioxidant that is essential for many bodily functions, including immunological function, gene expression, and protection against oxidative stress. As a result, low glutathione levels promote early aging and the onset and progression of diseases like cancer, diabetes, heart attacks, Alzheimer's, and Parkinson's.




A study

showed that milk containing only A2 β-casein and not A1 β-casein has the potential to promote the production of the antioxidant glutathione in humans.




Hydrolyzed Formula is milk-based formula where the cow's milk proteins are broken down into smaller pieces, make it easier to digest. It is also suitable for babies who have a milk allergy or intolerance.



Related Articles