10 Best Hair Treatment Products in Malaysia for You in 2021
If you are looking for the best hair treatment product in Malaysia, you've come to the right place. To understand hair damage and hair treatment, you must first understand the anatomy of healthy hair. When the hair is healthy, its cuticular layer lies flat on the cortex (core of the hair). Due to this, the hair looks shiny and smooth.

When a hair strand is damaged, its cuticular layer is destroyed which leaves the cortex vulnerable to breakage, dryness, dullness, and frizz.

Common hair related problems include:

Hair Loss
Oily scalp
Oily scalp with dandruff
Dry scalp
Dry scalp with dandruff
We have compiled the best hair treatments based on what it can help solve. Here's our pick on the best hair treatment products you can get in Malaysia today.
The SMiB Coral Calcium Anti Hair Loss Hair Care Set is a super effective hair treatment set that reduces hair loss. This set is infused with top-grade ingredients that aid with hair loss. One main ingredient in these products is high-grade coral calcium that is extracted using elastoplasticity from deep-sea edible corals.

This coral calcium aids in the cleansing, calming and reducing the irritation of your scalp. What's more is that, if you're one with a sensitive scalp, this set would treat your scalp well as it does not have traces of harmful chemicals such as mercury, arsenic or even lead.

Included in this set are the Coral Calcium Shampoo, Coral Calcium Treatment, Plasma Scalp Massage and the Coral Calcium Hair Essence. There was a clinical study that was conducted, which concluded that when the SMiB products are used in a complete set, the results are much more visible, effective, and it works faster in reducing your hair loss while nourishing your scalp.
Finally, it is now
available in Malaysia
so that we can enjoy the benefits of an effective premium Korean shampoo that prevents hair loss. You can purchase it online directly from
SMiB
and it can be delivered to your preferred address in Malaysia.
Click through
this link
and stand a chance to win a shampoo!
MYR 297 (10% OFF) >
Lazada Malaysia
(sold by Minoxidil Mart)
#5 Best Seller for Hair Care Products on Amazon Best Sellers.
The U.S. Food and Drug Administration (FDA) has approved two drugs to treat male pattern baldness:
Minoxidil (Rogaine): Rogaine is available over the counter as a liquid or foam. Apply it to the scalp twice a day to grow hair and prevent hair loss.
Finasteride (Propecia, Proscar):This is a pill that you take daily. It's only available with a prescription from your doctor.
For both of these drugs, it may take up to a year to see results, and you'll need to keep taking them to maintain the benefits.
3. Pantene ProV Daily Moisture - Best shampoo for Dry Hair in Malaysia
Pantene ProV Daily Moisture Renewal Shampoo
is a bathroom staple that buyers and experts agree on because it gives your hair a boost of hydration.
Not all shampoos and conditioners that come in sets are created equal, but the
Pantene ProV Daily Moisture Renewal
duo is one you can happily buy in bulk – I recommended this shampoo's counterpart in a recent article on the best conditioners money can buy and now, here I am, telling you to go out and complete the family.
This shampoo works with Pantene's Moisture-Silk Complex to "lock in hydration from root to tip" and leaves hair softer and shinier. It won the
Allure Best of Beauty Award
in 2017 and Reader's Choice Award in 2016 and 2017. The publication's editor Jenny Bailly described it as, "one of the least stripping of hair-cleansing options," and fans seem to agree.
One Amazon reviewer writes, "This has been the shampoo I swear by for at least 15 years. I have long thick curly hair and it has always left it smooth and manageable. Also use it on my daughter's hair and we both love it!"
Pros: Inexpensive, hydrating, has an equally excellent matching conditioner
Cons: Might weigh down finer strands or make oily hair feel extra greasy due to the moisturizing component
#1 Best Seller for the Shampoo and Conditioner category of Amazon Best Sellers with more than 25,000 ratings. More than 70 customer reviews on
Lazada Malaysia
.
Nizoral anti-dandruff shampoo not only treats and prevents dandruff, but also the inflammation associated with dandruff, relieving scalp redness and itching. Its targeted action specifically treats the underlying cause of dandruff, yet it is pleasantly gentle to your hair and odour free.

Nizoral A-D kills the fungus that causes dandruff. That's because the ingredient called ketoconazole binds to the natural protein of your hair so it keeps working between shampoos with Nizoral A-D. Ketoconazole keeps nasty dandruff in check so you don't have to keep checking your shoulders. Nizoral A-D breaks the cycle because it puts the kibosh on P ovale.
Ingredients:
Ketoconazole 20 mg/g
Other Ingredients: Sodium Laurylether Sulphate, Disodium Monolauryl Ether Sulphosuccinate, Coconut Fatty Acid Diethanolamide, Laurdimonium Hydrolysed Animal Collagen, Macrogol 120 Methyl Glucose Dioleate, Sodium Chloride, Sodium Hydroxide, Imidurea, Hydrochloric Acid, Erythrosine (E127) and Purified Water.
5. Ryo Hair Loss Care Shampoo ( Oily Scalp ) 400ml - Best Shampoo for Oily Scalp
The Ryo Hair Loss Care Shampoo contains herbaceous ingredients like Ginseng, Peony and Wormwood extract to nourish your hair scalp and strands. These ingredients first work to strengthen your hair roots then enhance the resilience so that your hair strands are better held in place. This translates into less premature hair fall and excessive hair loss!
Not only does this shampoo enrich your scalp, it also contains Salicylic Acid, which slightly exfoliating in nature. This helps to clear your hair roots of any potential clogging that can weaken the roots too. If you're suffering from dandruff in addition to hair loss, this Ryo Shampoo can also help to resolve this and prevent your scalp from being itchy.
Ryo hair loss care shampoo reviews at Lazada Malaysia: 5.0/5.
6. Hair Dr. Follicle Shampoo 250ml
Hair Dr. is an advanced hair loss system developed to give results. Its unique, patented Nano Technology delivery system uses an Active Peptide complex that delivers the formula directly to the root of the problem, to strengthen and nourish your hair and provide an effective re-growth platform. Hair Dr. utilises a unique 2 step system that effectively combat hair loss and promote hair re-growth.
1st Step – Prevention Daily use of the Hair Dr. Follicle Shampoo cleanses hair and scalp gently and thoroughly and create an optimum condition for a healthy scalp to absorb the active ingredients against hair loss.
2nd Step – Rejuvenation Use twice daily on thinning areas of the hair, Hair Dr. Follicle Serum delivers the active ingredients to revitalise and rejuvenate the hair follicle, strengthen the hair shaft and normalise the hair growth cycle.
Hair Dr. shampoo reviews at Lazada Malaysia: 4.4/5.
7. Kérastase Densifique Bain Densité Shampoo
Improve your hair with this gentle but thorough cleanser that'll restore resilience and strength. Ceramides protect against further stress while hyaluronic acid adds hydration and resilience.
Key ingredients:
Hyaluronic Acid: Natural salt that retains up to 1,000 times its weight in moisture. Hydrates and gives resilience and plumpness to the hair.
Gluco-Peptide: It enters the deepest layers of the cuticle to compensate surface irregularities and restore uniformity. Hair is texturized.
Ceramides: Strengthen the hair fiber.
8. Grafen Root Booster Shampoo
GRAFEN Root Booster Shampoo, another Korean product is a neutral low acidic (pH 5.5) shampoo that contains 22 kinds of amino acid to ensure a healthy hair growth and scalp. Formulated with two oils, Camelia seed oil and Olive oil, which are perfect for nourishing the hair as they protect it from external pollution. Various natural ingredients help soothe and relieve scalp irritation.
Ingredients: Purified Water, Cocamidopropyl Betaine, Sodium Lauroyl Methylaminopropionate, Tea-Cocoyl Glutamate, Disodium Laureth Sulfosuccinate, Cocamide MEA, Polyquaternium-10, PPG-3 Myristyl Ether, Perfume, Salicylic Acid, Dexpanthenol, Pentasodium Pentetate, Sodium Chloride, Citric Acid, Niacinamide, 1,2-Hexanediol, Alanine, Arginine, Aspartic Acid, Cysteine, Glutamic Acid, Glycine, Histidine, Isoleucine, Leucine, Lysine, Methionine, Ornithine, Phenylalanine, Proline, Taurine, Threonine, Tryptophan, Tyrosine, Valine, Glutamine, Asparagine, Houttuynia Cordata Extract, Perilla Frutescens Leaf Extract, Menthol, Aminomethyl Propanol, Biotin, Camellia Japonica Seed Oil, Olive Oil.
Grafen Root Booster Shampoo Malaysia reviews at Lazada Malaysia: 4.9/5 (more than 100 reviews).
9. Nioxin System 1 Cleanser Shampoo 1000 ml - Best Shampoo for Hair Loss Female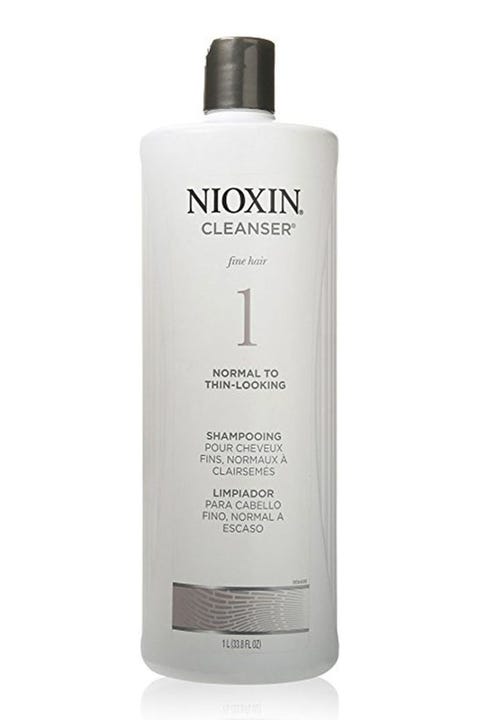 Designed to remove oil and debris such as sebum, fatty acids and environmental residue which can block hair follicles.The System 1 Cleanser Shampoo by NIOXIN is suitable for normal to fine, thin looking natural hair. It gently removes product build up, clearing nutrient pathways to your scalp and hair follicle sites without stripping hair of essential oils.
Featured in
Elle
in 2020 as one of the shampoos recommended for hair growth. Also featured in
Insider
as one of the dermatologist recommended shampoo for hair loss.
Nioxin System 1 shampoo reviews at Lazada Malaysia: 4.8/5.
10. L'Oreal Paris EverPure Sulfate Free Frizz Defy Shampoo, with Marula Oil, 8.5 Fl. Oz - Best Sulfate-Free Shampoo For Coloured Hair
L'Oréal was one of the first drugstore brands to base a line of shampoos on the sulfate-free mindset.
The L'Oreal EverPure is a range of salon-quality haircare that is designed for coloured hair and to protect color. There are no harsh sulfates, salts or surfactants that can strip, dull, or damage.

This one is infused with Marula Oil, gently cleanses frizz-prone hair for humidity and frizz control, manageability and smooth luminosity.
REVIEW: L'Oreal EverPure - Your Go-To After-Colour Hair Care Range
After changing up my haircare to L'Oreal Paris EverPure Repair & Defend range, my hair is looking sleeker than ever! Just look at that shine! I have never had such natural shiny locks. Most of the time, I will have to fake it with a little hair oil but this is au naturale and I am loving it! Are you convinced into switching up your haircare for one that is sulfate & paraben-free? Well, hit up our local drugstores like Watsons & Guardian or you can find this range at leading supermarkets & hypermarkets. Do your hair a favour, stop stressing it out with harmful chemicals. You can have gorgeous hair too!